Ultralife ER26500 Li-SOCl2 C-size Bobbin Cell
3.6V 9AH Lithium Thionyl Chloride Primary cell
Dimension: L50.0 x C26.2 MM
Weight: 55g
Categories: Batteries
Description
Ultralife's Lithium 3.6V 9000mAh size C Li-ion battery is a military grade battery that is safe and fuss-free for users.
It has the highest energy density, flattest discharge voltage curve, longest shelf life, widest operating temperature range, and lightest weight of any comparable battery. A 10-year service / shelf life makes our battery the choice for alarm and security systems manufacturer for their premium lines.
Ultralife Corporation is a New York based company that designs and manufactures batteries and communication systems worldwide. Ultralife serves the government and defense, medical, safety and security, energy, robotics and other industrial customers globally.
Applications
• Military and other radio applications
• Alarm and security systems
• Beacons and emergency location transmitters
• GPS
• LED lighting applications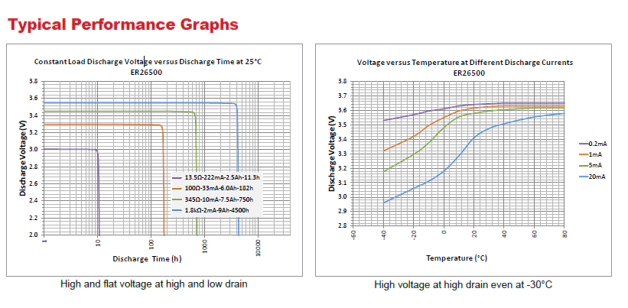 Key features
• Voltage range: 2.0 – 3.7V
• Nominal capacity: 9Ah @ 2mA to 2.0V @23°C
• Max. continuous discharge: 200mA
• Max. pulse discharge: up to 400mA (conditional on life and temperature)
• Optimal operating temp: -55°C to 70°C
• Optimal storage temp: -55°C to 70°C
• Shelf life: 5 years if stored under 30°C
• High and stable operating voltage
• Superior drain capability for high power applications
• Low self-discharge rate for longer battery life of up to 10 years
• Hermetic glass-to-metal sealing to stem leakages
• Non-flammable electrolyte for safe operations
• ISO certified manufacturing lines
• UL 1642 certified product
• UN /DOT 38.3 certified
• UN Hazmat classification: Class 9